Golden State Gem & Mineral offers fine gems and minerals for sale. We have a large selection for you to choose from, and they are updated regularly. Our most recent acquisitions can be found under the New Arrivals page.
Thank you to everyone who came out and supported us at The 49th Annual Denver Gem & Mineral show September 16-18, The show was Great!
Check out our featured item!
Tourmaline var. Elbaite (Cruzeiro Cross)
Cruzeiro Mine, Doce Valley, Minas Gerais, Brazil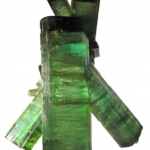 For more info on this piece visit our Tourmaline page under Fine Minerals for Sale or click here.
How to Order

Please contact me with the name of the item and price. Also give me your email address and/or phone number and I will get back to you soon.

Thank you for your interest !

Contact Info

Sign up for Our Newsletter

Our free email newsletter features new gems and minerals, upcoming shows, interesting things and just keeps you updated on what is happening with us!

Recent Posts