Chrysoberyl
Karawitz, Ratnapura, Ratnapura District, Sabaragamuwa Province, Sri Lanka
This is a large classic, sought-after flattened, twinned chrysoberyl crystal showing good clarity and areas which are "facet grade" with a vivid chartreuse green color. This is a rare specimen for the size, clarity and color.
Weighing approximately 81.0 carats (16.3 grams) and measuring 30.0 x 22.0 x 10.0mm. $3,000.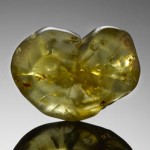 How to Order

Please contact me with the name of the item and price. Also give me your email address and/or phone number and I will get back to you soon. Thank you for your interest !

Contact Info

Follow us on Instagram