Our most recent acquisitions are below. Updated regularly.
Smithsonite var. Cadmium rich Wei Nan, Yunnan Province, China
Striking, rich citron-yellow, translucent, waxy lustre, banded, bubbly, botryoidal smithsonite encrusts the banded underlying layers of gray fluorite on the matrix plate with sulfides on this excellent specimen from a circa 2005 find at this obscure locality in Yunnan Province (but only brought out to market the last 2 years in China). The yellow color is thought to be due to cadmiun content, as with yellow smithsonite from Tsumeb, Italy, and Mexico. The yellow smithsonite GLOWS, when top lit. A couple of spots of periphery wear are noted, but are certainly only a modest detraction to this colorful piece. These are VERY similar to Italian smithsonites, from the 1800s, that cost an arm and a leg! And, those are super rare on the market. This new find really sets a new standard and gives the rest of us a chance to acquire one in this style at a reasonable price point.
8.3 x 5.7 x 2.3 cm, Small Cabinet $400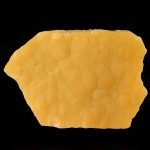 Gold
Eagles Nest Mine Placer County, California
0.96 grams $400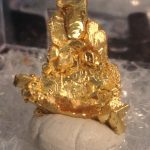 Gold
Eagles Nest Mine Placer County, California
0.67 grams $300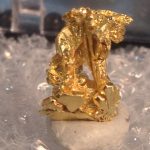 Gold
Eagles Nest Mine Placer County, California
0.49 grams $200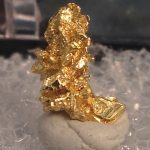 Gold
Eagles Nest Mine Placer County, California
0.40 grams $150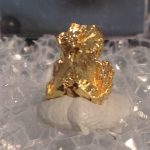 Gold
Eagles Nest Mine Placer County, California
1.24 grams $450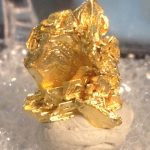 Gold
Placer County, California
4.48 grams. $900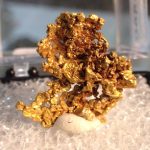 Gold
Nevada County, Sierra Nevada Mountains, California
1.43 grams. $140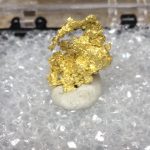 Gold
Nevada County, Sierra Nevada Mountains, California
1.49 grams. $145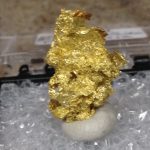 Gold
Nevada County, Sierra Nevada Mountains, California
1.57 grams. $150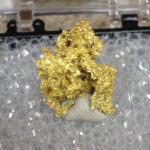 Gold
Nevada County, Sierra Nevada Mountains, California
1.83 grams. $180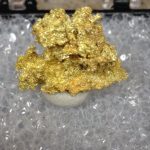 Gold
Nevada County, Sierra Nevada Mountains, California
3.9 grams. $350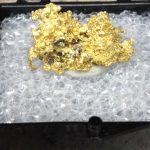 How to Order

Please contact me with the name of the item and price. Also give me your email address and/or phone number and I will get back to you soon. Thank you for your interest !

Contact Info

Follow us on Instagram